P

Digital & Static Signage

P

Indoor & Outdoor Solutions

P

Brand Identification

P

Up Selling & Cross Selling Opportunity

P

Specials & Membership Packages Promotion

P

Customer Experience Optimization
Johnny Clean Car Wash
Challenge
Creating a unique car wash experience. Help Johnny Clean stand out from the crowd with the latest in digital signage, giving them a modern, high tech brand image and supporting their value proposition.
Solution:
3 digital displays that follow the customer journey as they drive thru the car wash, used to show pricing options and to upsell monthly memberships.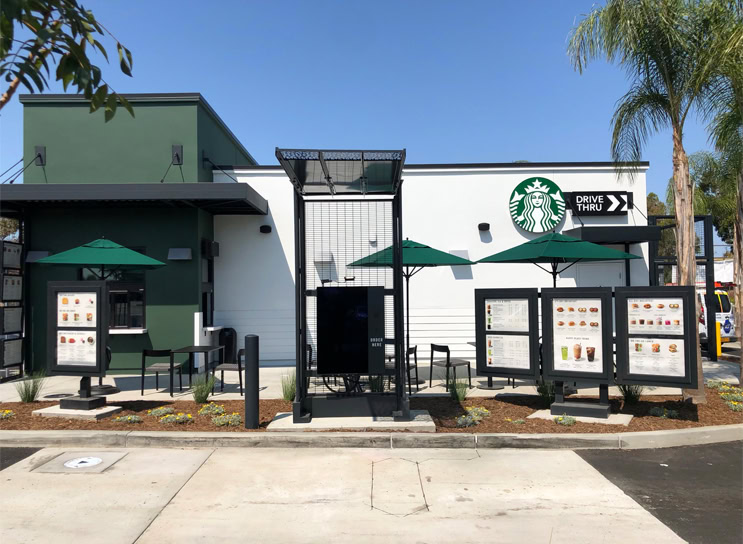 Starbucks
Challenge
Our team of engineers and designers co-developed with Starbucks a unique design for their outdoor menu boards, able to highlight and display the vibrant colors of Starbucks' brand identity. We helped create a seamless drive-thru experience for their guests, displaying Starbucks' extensive menu options and creating a canopy to host and protect the digital order confirmation screen. DSA drive-thru solutions were implemented in all of their locations in the Americas and Mexico for the past 15 years.
Solution:
An entire turn-key drive-thru solution with menu boards, order point canopy, and accessories:
The Space Needle
Challenge
The main challenge in this project was to design curved light boxes that will integrate perfectly into the shape of the room and guide visitors through the exhibit as they are making their way up and around the sphere. Being installed in one of the most popular touristic attractions in the country, the exhibit was also created to be modern, high-tech, and attractive for visitors to learn about the building history.
Solution:
DSA designed 15 Large Format Light Boxes with curved extrusions in trapezoidal shapes, including interactive mounts to create multilevel imagery with film graphics.
Willis Tower
Challenge
In 2019, the Willis Tower decided to create a new exhibition for their visitors to discover the story of Chicago as they make their way to the Skydeck area. DSA was chosen as a partner by Chicago Scenic Studios to bring this exhibition to life and create displays able to brighten the 7 rooms of this exhibit, two stories below ground level. Together we created a magical experience for the Tower guests to learn about the city, its culture and history through beautiful pictures and interactive experiences.
Solution:
We designed and fabricated more than 80 Fabric Silicone Edge Graphics, in various sizes and shapes: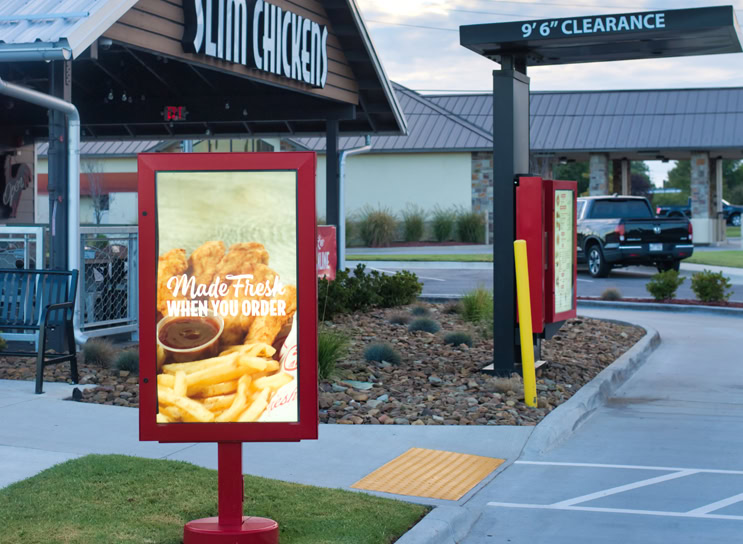 Slim Chickens
Challenge
Though static signage was a vital component of the brand's messaging strategy early on, with its tremendous growth, Slim Chickens leadership decided it was time to upgrade its drive-thru to digital to streamline operations. DSA supported their whole transition from the concept and design, through working with the franchises to optimize their site planning and installation. Slim Chickens partnered with DSA Signage to provide their guests with a complete digital drive-thru experience.
Solution:
Full digital drive-thru experience, including a clearance bar, pre-sell menu board, and order point canopy.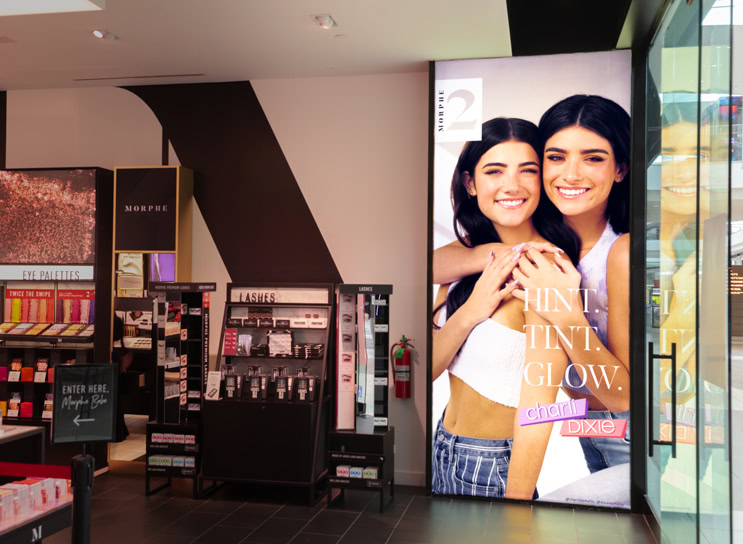 Morphe
Challenge
Increase store traffic with large-format, vibrant displays that attract people walking around the mall. Empower the store staff so they can be autonomous in updating the graphics every month, following their marketing campaigns. Create displays that will support their fan base's Instagram moments.
Solution:
2x large-format Fabric Silicon Edge Graphic Light Boxes. 2-3x smaller SEG light boxes inside the store:
Dave's Hot Chicken
Challenge
Creating a complete package of drive-thru signage solutions that are able to display and highlight the vibrant colors of their brand identity. Working hand-in-hand with the franchises to support their drive-thru site planning and installation.
Solution:
Turn-key drive-thru solution with a directional sign, clearance bar, pre-sell menu board & order point canopy:
Cartier
Challenge
Provide the Boutique with a bright, elegant display solution that would be perfectly integrated into their contemporary architectural façade, for the 2019 Holiday Season. Design a unique decoration, that helps create an unforgettable shopping experience for their visitors.
Solution:
16x Fabric Silicone Edge Graphic Light Boxes with a bright red fabric graphic, installed in the shape of a ribbon and bow, stretching over three exterior windows:
Leading Manufacturer of standard and customized display solutions featuring the latest technology, DSA Signage is committed to unlocking the potential of visual customer experiences.
With an in-house team of engineers, we support your entire project lifecycle, from concept to delivery
Frequently Asked Questions
What type of menu boards do you offer?
We offer indoor and outdoor menu boards, either digital, static, or hybrid variations. Static menu boards use an edge-lit LED or backlit LED, and a printed menu graphic is inserted for display. Digital menu boards use digital LCDs and a media player to deliver content across one or more display panels. Both menu boards can be used for drive-thru and are inserted in durable, weatherproof enclosures that can be wall-mounted or freestanding.
What type of menu board should I choose?
Each type of menu board has its advantages. Static menu boards have a higher initial cost, but the energy efficiencies of LED lighting save on operating costs over the life of a menu board. Static menu boards also have a much slimmer profile. Any illuminated menu board will require printed graphics which must be reprinted if updates are needed. If the menu is for a drive-thru, then housing, ability to change graphics, and security are important factors. Digital menu boards are more upfront, but they eliminate all future graphic printing costs and add exceptional flexibility for content control, POS integration, and customer engagement.
What's included with a menu board purchase?
An LED indoor menu board includes:
LED lighting
A built-in illuminated acrylic panel
A clear cover sheet
Drive-thru menu boards include:
Outdoor housing
LED lighting
3/16" Poly Carbonate
Digital menu boards add-ons include:
One or more digital displays
Media player
Content creation software
Mounting system
SD card
HDMI cable
(Digital menu design services are available but offered separately.)
Do you offer and/or print illuminated menu graphics?
We offer printed graphic menu design on a backlit film 8mil substrate. Graphics can also be printed directly onto an acrylic sheet.
Do you offer digital menu design services?
Yes, if you want to convert a printed menu to a digital menu or create a new one from scratch. We offer several content creation packages. Our digital media players also include easy-to-use content creation software that allows you to create digital menus on your own.
Your Total Solutions For Car Wash Industry Boards
To request a custom quote for commercial grade displays or digital signage equipment, please complete the form below.
We will contact you shortly.